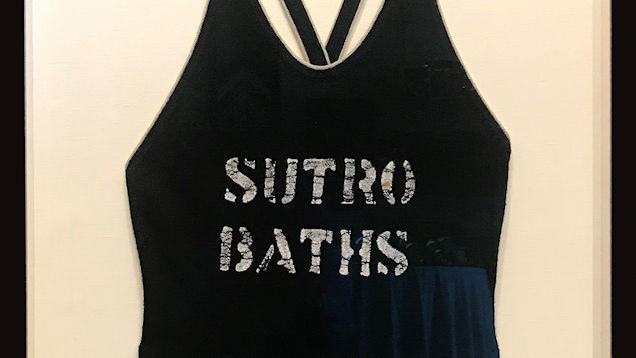 Preserving a Colorful Part of San Francisco History
The Project
The client wanted to protect and preserve a Sutro Baths Swimsuit acquired at auction after the San Francisco Cliff House closed its doors.
The Challenge
Display it tastefully – the client wanted the background to match the lettering and modernized type of frame simple black always works well for this.
Protection from the elements (dust, light, moisture).
Getting the "Sutro" lettering straight and making it look aesthetically balanced.
Vintage garments are particularly hard to make this happen due to being worn and manufacturing in those times was not as precise as they are nowadays.
This Wool Swimsuit was subject to water swimming, stretching, washing… As you can see, the top straps are uneven.
The Solution
Created shadow box using a deep black frame as well as using fabric background and fabric spacers/walls.
Hand-stitched the Swimsuit to the fabric backing – this way it can be removed without harming the swimsuit.
The swimsuit was float mounted onto an eggshell textured linen (hand sewn to the fabric backing) and set back into the frame with eggshell linen spacers to keep the glass from resting on top of the swimsuit.
We used museum-quality glass with a high content of UV and anti-reflective filtering (99% UV protection). The frame is a maple hardwood painted black to offset the swimsuit.
Our client was thrilled, and we enjoyed preserving a part of San Francisco History.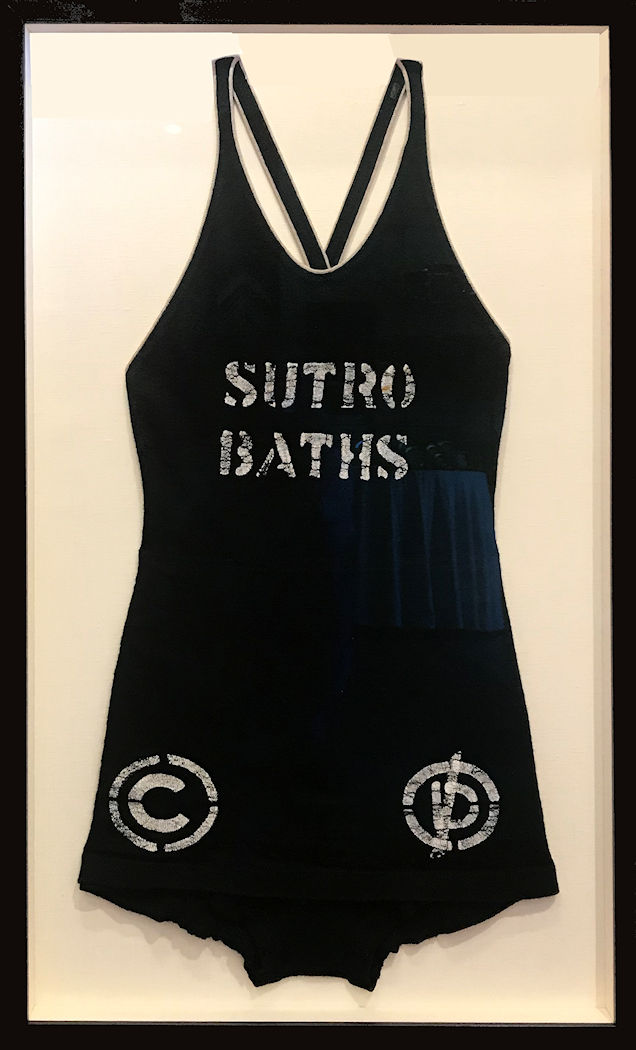 The Story behind the Sutro Baths
Adolph Sutro. The self-made millionaire who designed the Sutro Heights and later the amazing Sutro Baths in 1894. With his special interest in natural history and marine studies, he constructed an ocean pool aquarium among the rocks north of the Cliff House.
Sutro's dream for the Baths was to provide a healthy, recreational, and inexpensive swimming facility for thousands of San Franciscans. A classic Greek portal opened to a massive glass enclosure containing seven swimming pools at various temperatures. There were slides, trapezes, springboards, and a high dive. The power of the Pacific Ocean during high tide could fill the 1.7 million gallons of water required for all the pools, in just one hour. The Baths could accommodate 10,000 people at one time and offered 20,000 bathing suits and 40,000 towels for rent.
The era of the Baths was the era of the "still fully clothed" swimsuits. Men's suits were heavy woolen tank top-style, reaching to mid-thigh, with knee-length shorts underneath. The women's suits were more dress-like, with a skirt down to the knees and knee-length shorts underneath. The garments were wool and emblazoned with "Sutro Baths" across the chest. You rented your suit for the day, you did not get to bring your own.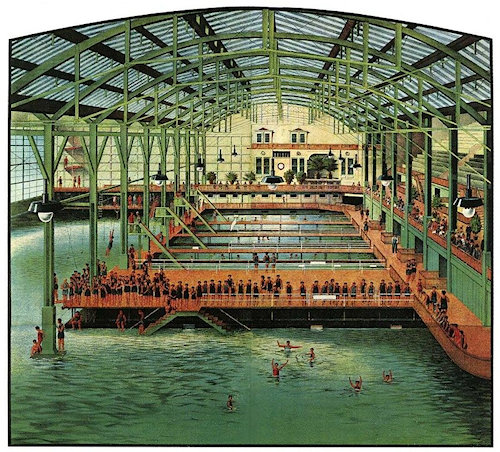 Got a unique framing or display project?
Please bring it to one of our three San Francisco Picture Framing shops so we can take a look and find the best framing and display solution for you.